Hello, I am Donald R. Buie. Since October 1981, I have been in the private practice of law in Winston-Salem, North Carolina. I believe that a person should have a personal attorney to provide legal services, the same as he or she has a personal physician to provide medical services. My career has been devoted to providing legal services to this community. I have practiced before all levels of the North Carolina State Court System, Small claims, District, Superior, Court of appeals, and Supreme Court, as well as the Federal Bankruptcy Court.

My office provides you with the personal service and the attention you deserve. If you are in need of legal services or advice contact this office and let us assist you.
Serious Automobile Accidents • Tractor Trailer Accidents • Wrongful Death • Personal Injury • Consumer Bankruptcy • DWI / Traffic • Wills and Estates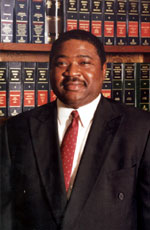 Located Conveniently in Downtown Winston-Salem
Office Hours: Monday - Friday 8:30 a.m. - 5:30 p.m.
Appointments Are Requested
The Law Office of Donald R. Buie is a
Federally Designated Debt Relief Agency
under Title 11 United States Code
Section 528 (a). We help people
file for Bankruptcy relief
under the Bankruptcy Code.
Donald R. Buie
Attorney at Law
823 West 5th Street
Winston-Salem, North Carolina 27101
E-Mail Us at: law@donaldrbuie.com
(336) 773-1398 • Fax: (336) 773-1505
Home | About Donald R. Buie | Contact Us
Copyright © 2002-2011 All Rights Reserved.